Published on: Dec 10, 2014
The Bioelecromagnetics Society, recognizing the importance of student interest in bioelectromagnetics research, encourages their participation in BEMS and especially in the Annual Meeting by providing travel assistance. Indeed, each year the Bioelecromagnetics Society supplies Students Travel Grants dedicated towards contributing to travel expenses such as airfare, accommodations and registration.
In addition, the Society promotes and recognizes scientific excellence through its Students and D'Arsonval Award competitions.
The Students Competition awards the best Student Papers, usually rewarding the best 3 Oral and the best 3 Poster presentations.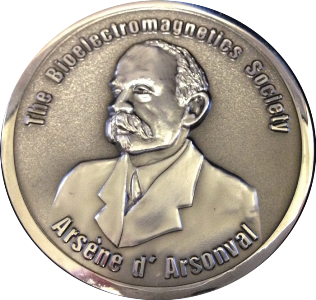 The most prestigious Award of the Bioelectromagnetics Society is the D'Arsonval Award. The purpose of the d'Arsonval Award is to recognize outstanding achievement in research in bioelectromagnetics. The sole requirement is extraordinary accomplishment within the discipline of bioelectromagnetics, which can consist of exceptional scientific accomplishments or practical application of electromagnetic fields for human benefit. The award consists of a silver medallion, a silver lapel pin, an illuminated testimonial and an honorarium, which are presented at the BEMS Annual Meeting.