Published on: Oct 26, 2021
Many congratulations to Flavia Mazzarda, for winning this year's Arthur Pilla Young Scientist Award. The Annual Arthur Pilla Young Scientist Award ceremony took place at the BioEM2020 Meeting in Ghent, Belgium in September 2021. For more information on late Dr. Arthur Pilla and the award set in his honor visit here: https://arthurpilla.com/.
The award was presented to Flavia by BEMS president Rene De-Seze.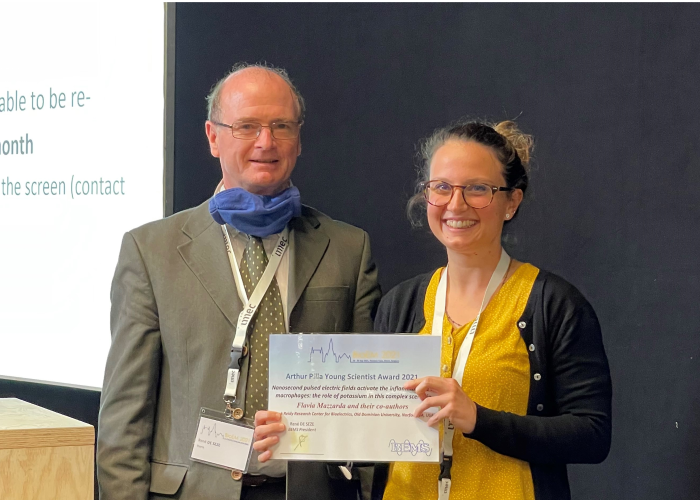 We asked Flavia to write a few words about her research and experience in BioEM2021. See below her report.
Award winner's report
Flavia Mazzarda
My history in Bioelectrics is relatively short. I joined Dr. P. Thomas Vernier and Dr. Claudia Muratori's laboratory at the Frank Reidy Research Center for Bioelectrics, Old Dominion University, on December 2019 and I was thrilled by their studies on the mechanisms of electropermeablization, and interaction of cellular membranes with electric fields. Before joining Dr. Vernier's lab, I received my Ph.D. in Condensed Matter Physics, Nanoscience and Complex Systems at the University of Roma Tre, in Rome. My multi-disciplinary background helped me a lot in the electroporation field due to the multi-dimensional nature of this discipline in between biology, engineering, and physics.
My research is focused on the effects of electric fields on biological systems (electroporation), with applications in cancer treatment. Electroporation in cancer therapy has been mainly used in tumor ablation, but recently, a possible stimulation effect, depending on field amplitude and pulse duration, has been highlighted. It is known that tumor ablation through electroporation stimulate a long-lasting immune response, but the mechanisms behind are still poorly understood. Our research investigated the effect of nanosecond pulsed electric fields (nsPEF) on macrophages studying the possibility of the inflammasome activation, a multi-protein innate immunity platforms, in response to nsPEF.
At the BioEM 2021 meeting in Ghent, I was honored to receive the Arthur Pilla young scientist award. It was a great opportunity for me to meet and share my research with many great scientists in the Bioelectrics and Bioelectromagnetics field. I would like to sincerely thank the organizers for such a successful meeting, and the Arthur Pilla research foundation for sponsoring this award that supports and encourages young scientists. I would also acknowledge Pulse Biosciences that founded this research.